Cat® LPG forklift trucks in the GP40N3 to GP55N3 series are suitable for all heavy industries looking to have only a moderate impact on the environment.
These trucks come with a generous 6 cylinder LPG engine offering the same power as their diesel counterparts, with reduced harmful emissions thanks to their 3 way catalyst fitted as standard.
The LPG can be stored in a standard 13 kg cylinder, or in an optional refillable 60 L tank.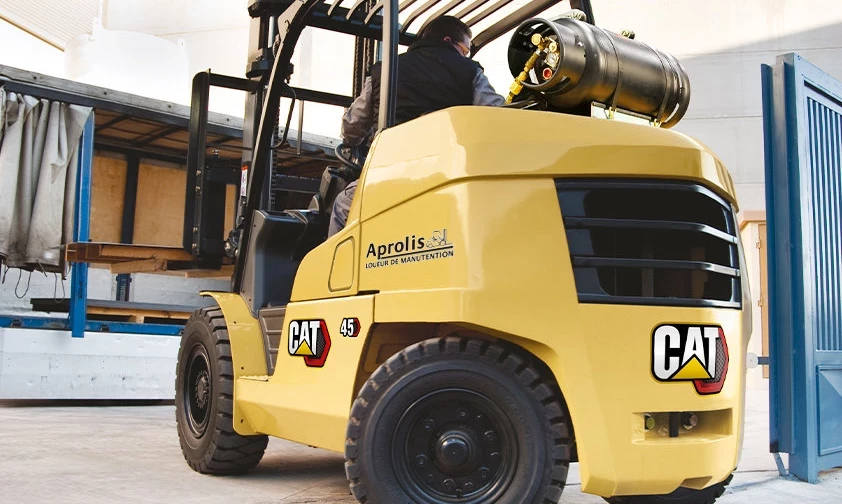 Cat LPG forklift trucks - GP40N3 to GP50CN3
| | | | |
| --- | --- | --- | --- |
| | : 4.000 - 4.500 - 5.000 kg | | : Up to 7.000 mm |
Centre of gravity: 500 mm
LPG engine GCT GK45 - 6cyl - 4.4L - 54kW
3-way catalytic exhaust
Grammer MSG65 mechanical seat
2 front LED work lights + LED road lights
Options: 60L LPG fuel tank, auto engine shutdown, pneumatic seat, load weight display, cab, air conditioning
Cat LPG forklift trucks - GP50N3 and GP55N3
| | | | |
| --- | --- | --- | --- |
| | : 5.000 - 5.500 kg | | : Up to 6.000 mm |
Centre of gravity: 600 mm
LPG engine GCT GK45 - 6cyl - 4.4L - 54kW
3-way catalytic exhaust
Grammer MSG65 mechanical seat
2 front LED work lights + LED road lights
Options: 60L LPG fuel tank, auto engine shutdown, pneumatic seat, load weight display, cab, air conditioning