Cat® forklift trucks
Cat® forklifts, of which Aprolis is the exclusive distributor, are the little brothers of the American civil engineering machines and share the same DNA which made the famous Caterpillar® tracked brand internationally renowned.


This time, there is no question of moving earth. Cat® forklifts are designed to carry an impressive variety of loads, from a simple pallet to a container and not to forget metal crates, paper reels, cardboard bales, or big bags containing bulk products. Whatever the application, on sale or long-term rental, you are sure to find a Cat forklift truck to get the job done.

Electric, Diesel or LPG, the Cat forklift truck range runs on all three types of power source. Since 2016, more electric front-loading forklift trucks have been sold than IC engine, diesel or LPG units. If a policy of reducing emissions is what you are looking for, the electric range deserves your full attention.
Cat® Electric Forklifts Built Around the Operator
High performances, flexible and durable
The design of the Cat® electric forklift truck can meet all needs. Thanks to their performance, reliability, durability and adaptability, the Cat® electric forklifts feature the most innovative equipments and ergonomics that are firmly focused on the operator. Supported by excellent customer service, both in purchase and in the context of long-term rental, whatever the challenges of your activity, your industry or your working environment, we can offer your company a perfectly adapted global solution.

What are the advantages for your business ?
The Cat® electric forklift trucks offers unbeatable energy efficiency, performance, durability. The range of the Cat® electric forklifts trucks offer you an excellent return on investment and a low cost of operation. Their design allows them to withstand tough tasks and conditions.

Fully programmable, the Cat® electric forklift truck will adapt to your constraints and the wishes of your operators for an impressive variety of uses and improve as well the productivity and profitability of your handling équipment.
Built around your operator
Aware that your most valuable asset is your people, Cat® has invested heavily in meeting the needs of operators to improve the ergonomics of electric forklifts trucks and enhance productivity and generate a steady return on investment.
Here are some features that give your operator the comfort and control to do the best job possible with the Cat® Electric Forklift Truck.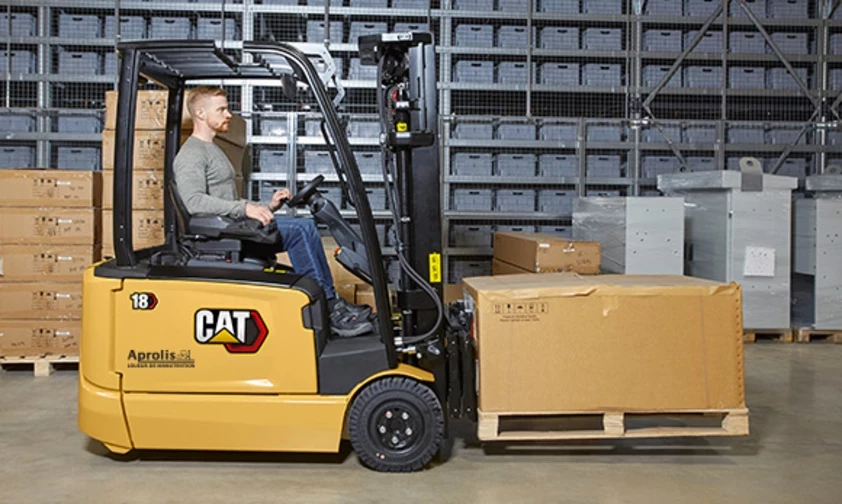 Smooth, quiet and precisely controlled performance
Unobstructed panoramic view
Clear space for legs and feet
Fully suspended and adjustable seat, tiltable steering column
Easy-to-reach and easy-to-use controls
Comprehensive and easy-to-read dashboard
Unobstructed access to the operator's station with low steps and an ergonomic grab bar
Flexible and really economic
The performance and the efficiency of Cat® forklifts trucks can be optimized for each application through comprehensive programming or by simply selecting one of the predefined operating modes. Profits are maximized by striking the right balance between production and performance mode.
Warehouse use
Mode : Normal warehouse
• Moderate acceleration
• Moderate travel speed
• Moderate hydraulic speeds
Shipping area
Mode : High performance
• Fast acceleration
• Fast travel speed
• Moderate hydraulic speeds
Long shifts
Mode : Economy
• Slow acceleration
• Low travel speed
• Moderate hydraulic speeds
Outside application
Mode : Long travel
• Slow acceleration
• High travel speed
• Moderate hydraulic speeds
Receiving area
Mode : Short shuttle
• Fast acceleration
• Low travel speed
• Moderate hydraulic speeds
Improve productivity with 360° steering
Cat® three-wheel electric forklift trucks feature 360° steering. With this feature, drivers can boost productivity with every U-turn, but also get greater comfort and better ergonomics thanks to the smoothness and flexibility that 360° steering gives our 3-wheel electric forklifts. This function can be activated or deactivated on request to our technical teams.
Cat® diesel forklift trucks
Cat diesel forklift trucks are simple and rugged equipment designed to last and last and cope with all weather conditions.

Stage V diesel engines, first used in 2020, produce even less pollution and offer outstanding fuel economy.

See the range
Cat® LPG forklift trucks
Cat LPG forklift trucks are reliable with low emissions, offering very high power and a capability of working outdoors or in, if the spaces are ventilated, because LPG engines do not produce particles.

Using LPG cylinders makes it easy to store the energy, with very little smell compared to diesel.

Cat® Lift Trucks' best-seller in France is still today an LPG truck.

See the range