Vous cherchez un service d'entretien et de réparation de chariot élévateur de confiance ?
Chez Aprolis, nous avons investi massivement dans Salesforce, un outil de gestion de la relation client de pointe.
Aujourd'hui, nos équipes de service, composées de plus de 450 techniciens qualifiés et de nos pôles de planification, utilisent Field Service, une composante essentielle de la CRM Salesforce.

Cette solution offre de nombreux avantages pour nos clients, tels que l'optimisation de la planification, une communication améliorée et une interaction accrue avec nos techniciens qui bénéficient d'une vue à 360° des interventions. Tout cela dans le but de vous offrir une réactivité optimale et un accompagnement de qualité.
Vue d'ensemble du Processus et des Intervenants
Les avantages apportés par Field Service
Our customer service DNA put together for over 70 years

The mission of our 540 technicians is to enable our customers to benefit from the highest availability levels for their equipment while respecting the safety of your employees.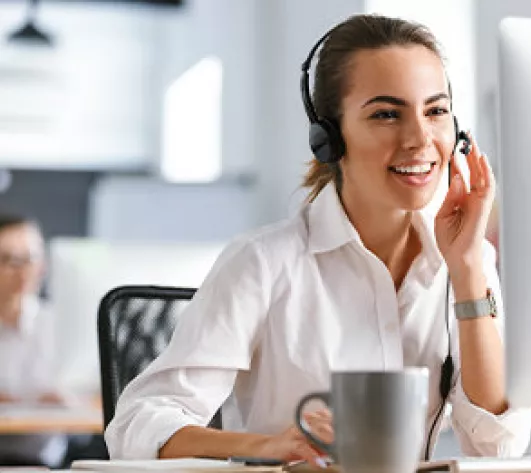 Our planning centres quickly get to work on your case
The technician's schedule and work is planned
Parts ordered by 5 p.m. the day before are delivered the next day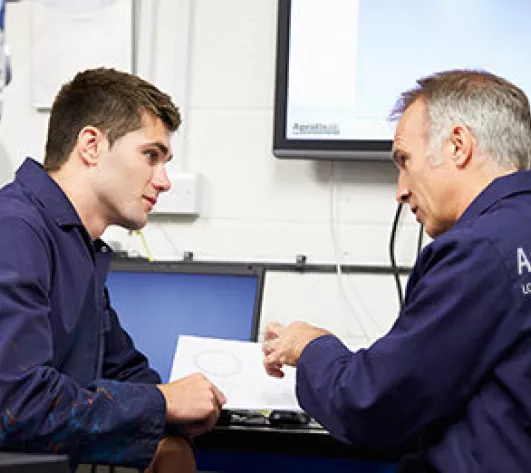 Continuous training central to all we do
Authorisations
A digital asset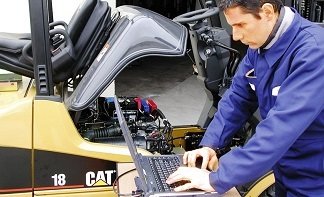 Digital technology is another tool in our technicians' toolkit
IT helps every technician with diagnostics and part identification.
All information about servicing actions is recorded on our technicians' connected tablets and is immediately fed back into our systems.
The worksheet is digital and the customer signs it off electronically on the connected tablet.
The customer receives the signed work order by e-mail after each job.
Simplified intervention request thanks to the Aprolis Service Application
After-sales service requests on a 24/7 basis
Use our Aprolis Service application!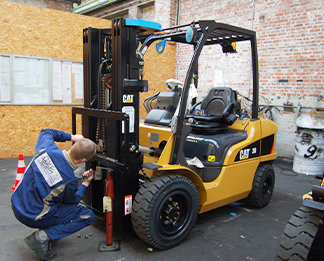 1. Guarantee the optimal availability of your equipment
Benefit from monitoring by our experts, anticipate preventive maintenance for the highest equipment availability.

Our equipment is designed for intensive use. Parts subject to wear and tear, such as forks, tyres, lifting chains or batteries will need to be replaced. The rate at which they are replaced will depend on the use to which you put your equipment. Aprolis is committed to guaranteeing you the highest possible availability.
Our experts are ready to help you with any maintenance operations, repairs and the assembly of any additional accessories.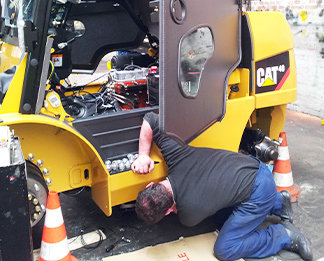 2. Equipment breakage - Reacting & Preventing
Leaving your trucks immobile is expensive, so it is important to be able to get them going again in compliance with safety regulations.

The economic consequences of breakage are a dead weight on your business. Your forklift truck is damaged, and often your building infrastructure and racking is too, as well as your goods.
Take advantage of our expert knowledge
- Detailed no-obligation repair quote
- Total respect for the safety of the equipment put back into service
- Preservation of your assets - no loss in value of the repaired asset
Our prevention advice
- Proposal for the installation of additional safety signage
- Proposal for a driving licence management system
- Proposal for an impact detection system
3. Your business is changing and so are your forklift trucks
New markets require you to review your handling processes and your safety standards also change. We can help you to modify the configuration of your forklift trucks to suit.

It is not unusual to have to change the configuration of a truck and its original capabilities to meet new requirements, either because new markets call for different logistics, or because safety criteria have changed to meet new demands.
Aprolis helps you to optimise the use of your equipment to meet your new challenges.
Our after-sales support experts will advise you on how to set up your equipment according to your needs.