Full container lift trucks are machines whose efficiency provides the right balance between performance and accuracy in the container handling process.

Konecranes container lift trucks offer high operating speeds (lifting, lowering and driving speed).

From 26 to 52 tonnes, the full container lift trucks are robust, stable and compact, offering the best balance between lifting capacity, size and length in the class.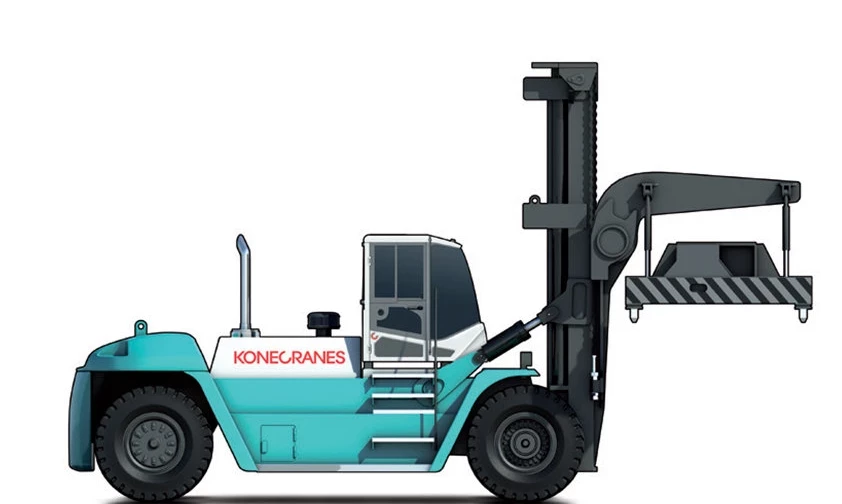 SMV33 G3/G4 full container lift truck
Rated capacity: from 30/26 t - Wheelbase : 4750 mm
Low cab
3-4 containers high
Lifting masts suitable for handling full containers
Single stack spreader
Topload lifting of 6 to 12 m containers
Lifting of 13 to 16 m containers in the same position as 12 m containers with the 4 twist-locks
Maintenance-free brakes
OPTIMA - probably the best cab in the entire industry
Konecranes Lift Trucks SMV37 G3/G4
Rated capacity: 35/33 t - Wheelbase: 5000 mm
Low cab
3-4 stacked containers
Lifting masts suitable for full container handling
Single stack spreader
Lifting from the top of 6 to 12 m containers
Lifting of 13 to 16 m containers in the same position as 12 m containers with the 4 twist-locks for attachment
Maintenance-free brakes
OPTIMA - probably the best cab in the entire industry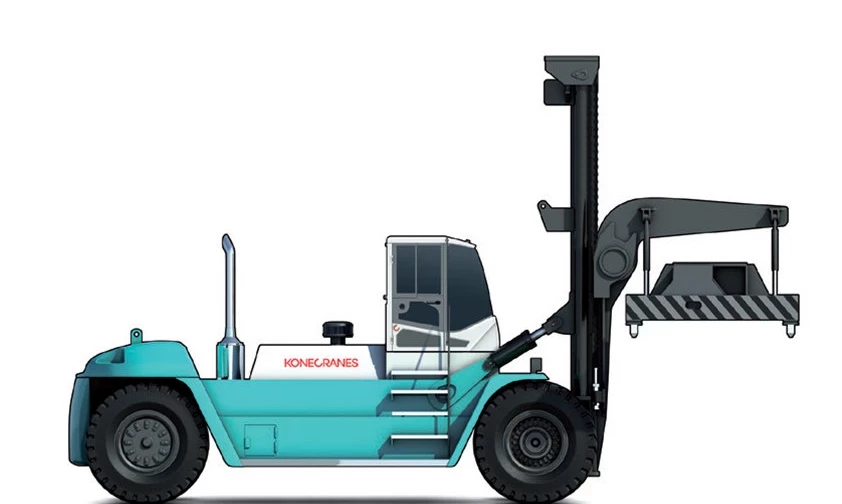 Konecranes Lift Trucks SMV45 G3/G4
Rated capacity: 43/41 t - Wheelbase: 5500 mm
Low cab
3-4 stacked containers
Lifting masts suitable for full container handling
Single stack spreader
Lifting from the top of 6 to 12 m containers
Lifting of 13 to 16 m containers in the same position as 12 m containers with the 4 twist-locks for attachment
Maintenance-free brakes
OPTIMA - probably the best cab in the entire industry
Konecranes Lift Trucks SMV52 G3/G4
Rated capacity: 45/43 t - Wheelbase: 6000 mm
Low cab
3-4 stacked containers
Lifting masts suitable for full container handling
Single stack spreader
Lifting from the top of 6 to 12 m containers
Lifting of 13 to 16 m containers in the same position as 12 m containers with the 4 twist-locks for attachment
Maintenance-free brakes
OPTIMA - probably the best cab in the entire industry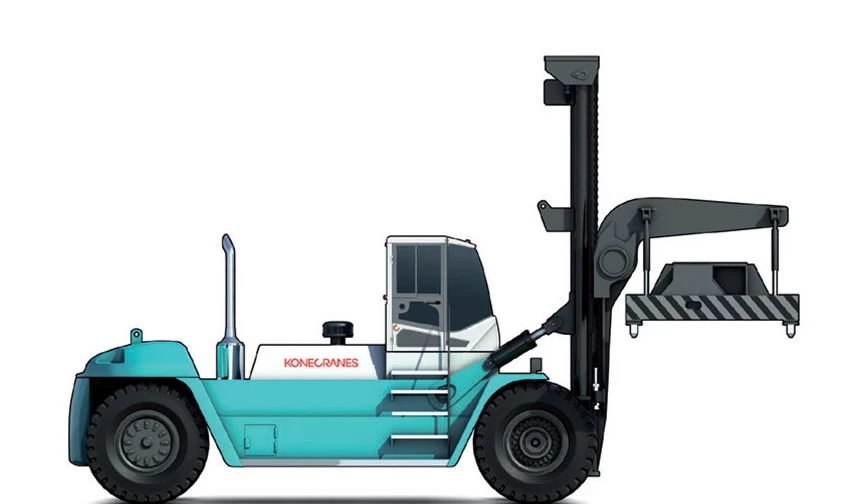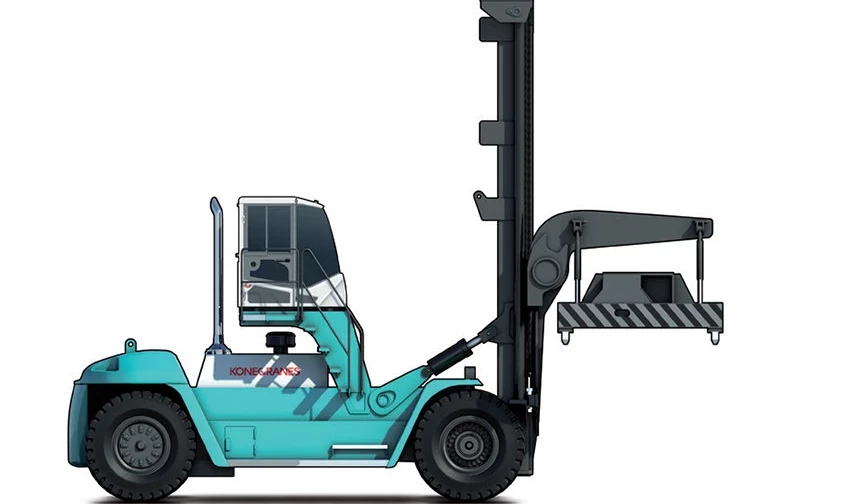 Konecranes Lift Trucks SMV37 G4S
Rated capacity: 35/33 t - Wheelbase: 5000 mm
High/centre cab
4 stacked containers
Lifting masts suitable for full container handling
Single stack spreader
Lifting from the top of 6 to 12 m containers
Lifting of 13 to 16 m containers in the same position as 12 m containers with the 4 twist-locks for attachment
Maintenance-free brakes
OPTIMA - probably the best cab in the entire industry
Konecranes Lift Trucks SMV45 G4S/G5S
Rated capacity: 42/41 t - Wheelbase: 5500 mm
High/central cab
4-5 stacked containers
Lifting masts suitable for full container handling
Single stack spreader
Lifting from the top of 6 to 12 m containers
Lifting of 13 to 16 m containers in the same position as 12 m containers with the 4 twist-locks for attachment
Maintenance-free brakes
OPTIMA - probably the best cab in the entire industry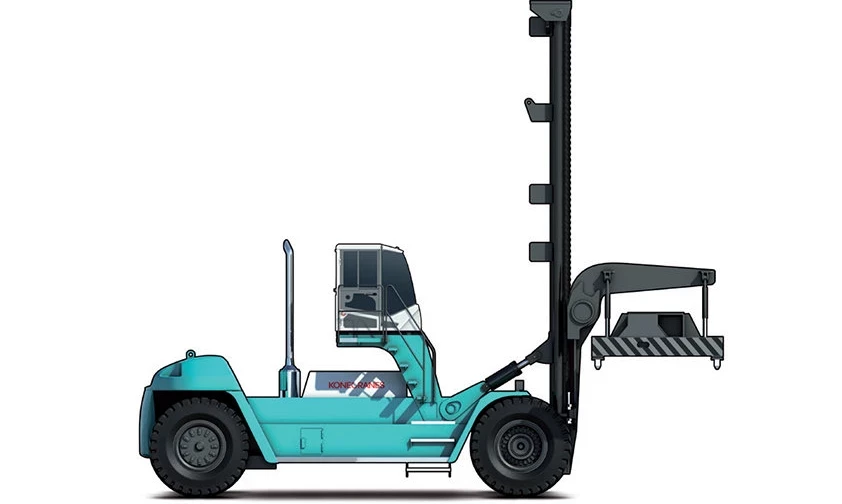 Konecranes Lift Trucks SMV52 G4S/G5S
Rated capacity: From 45/43 t - Wheelbase : 6000 mm
Cab in high/central position
4-5 containers in height
Lifting masts suitable for handling full containers
Single stack spreader
Topload lifting of 6 to 12 m containers
Lifting of 13 to 16 m containers in the same position as 12 m containers with the 4 twist-locks for attachment
Maintenance-free brakes
OPTIMA - probably the best cab in the entire industry