Crown order pickers - designed to last, capable of rising to every demand and maintaining high rates of work.
High-performance powerplants, flexible and precise driving, combined with the ergonomics of the cabs make for more efficient, more reliable picker work.
Whatever the reach height you require, Crown order pickers will do the job.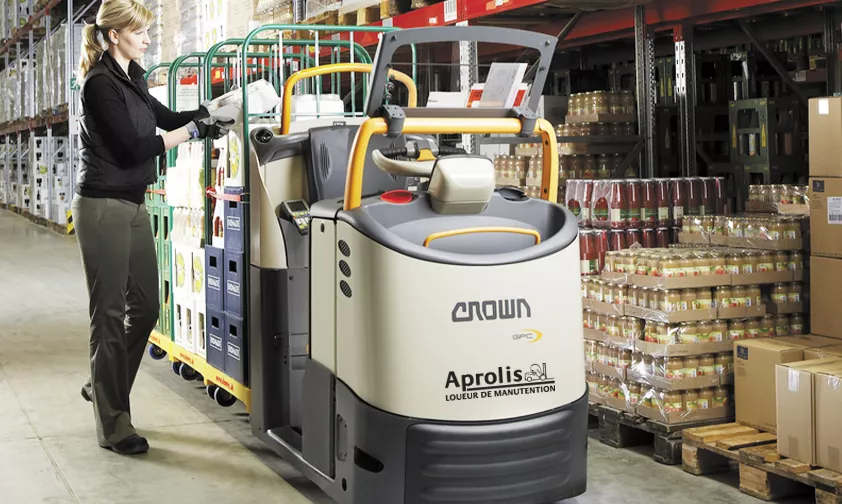 GPC3000 floor level order picker
| | | | |
| --- | --- | --- | --- |
| | : 2.000 to 2.700 kg | | : 240 mm |
Reliability comes from the Crown developed motors, brakes and steering with control by the fully adjustable Access 123 system

The cab is ergonomic and comfortable causing less muscular discomfort during use

Reinforced monobloc forks with a length of up to 3600 mm

Starting by PIN code is possible, with customisable performance
Options: Lifting platform - Various holders (PC, scanner, paper etc.) - QuickPick® Remote Technology - Lithium-ion eligible
GPC3045-GPC3055 ergonomic floor level order picker
| | | | |
| --- | --- | --- | --- |
| | : 1.200 to 2.000 kg | | : 960 mm |
Ergonomic short (1200 mm) or long (2400 mm) lifting forks

Reliability comes from the Crown developed motors, brakes and steering with control by the fully adjustable Access 123 system

The cab is ergonomic and comfortable causing less muscular discomfort during use

Starting by PIN code is possible, with customisable performance
Options: Lift/lower controls in backrest - Various holders (PC, scanner, paper etc.) - QuickPick® Remote Technology - Lithium-ion eligible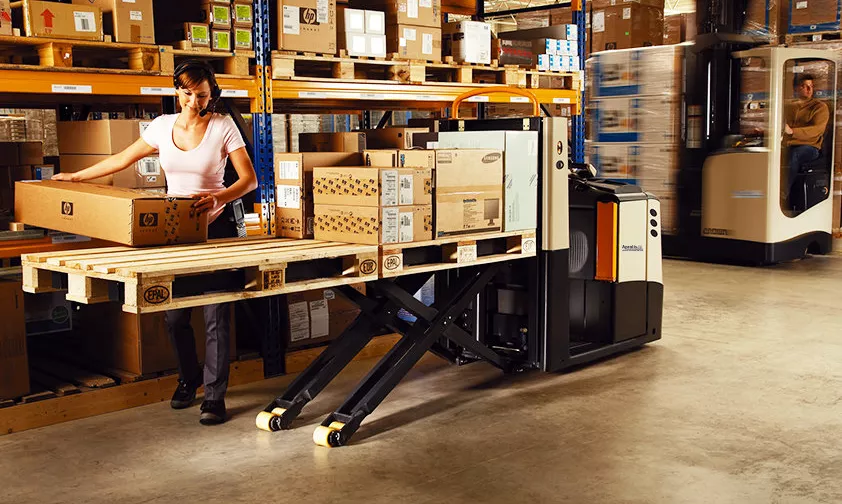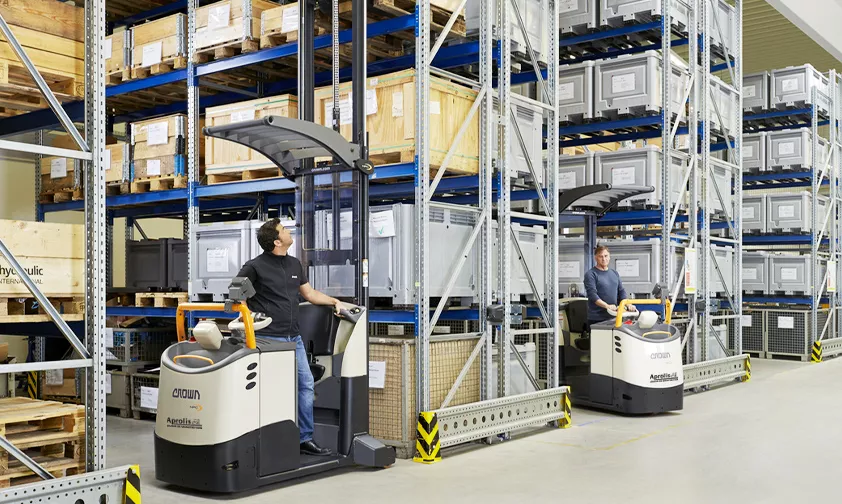 MPC3000 mast-type order picker
| | | | |
| --- | --- | --- | --- |
| | : 1.200 kg | | : 4.300 mm |
Mast in rear position and counterbalanced for different applications: ergonomic order picking, pallet stacking, load transfer, supply and storage

High visibility protective roof over driver (lifting >1800 mm)

Simplex or duplex masts with lift height of between 800 mm and 4300 mm

Reliability thanks to Crown-developed motors, brakes and steering, with control by the fully adjustable Access 123 system

The cab is ergonomic and comfortable, causing less muscular discomfort during use

Starting by PIN code is possible, with customisable performance
Options: Lift/lower controls in backrest - Various holders (PC, scanner, paper etc.) - QuickPick® Remote Technology - Lithium-ion eligible
LP3500 1st and 2nd level order picker
| | | | |
| --- | --- | --- | --- |
| | : 1.000 kg | | : 2.400 mm |
Cab on mast side with proportional controls

Dashboard with coded start

Asynchronous motor with linear speed reduction according to lifting height and steering angle

Fixed fork (LP3510) or ergonomic fork elevation (LP3520) versions

Driver protection roof and side doors for platform heights >1200 mm
Options: Double cab (LP3520) - Rail guide rollers - Roller-mounted side battery change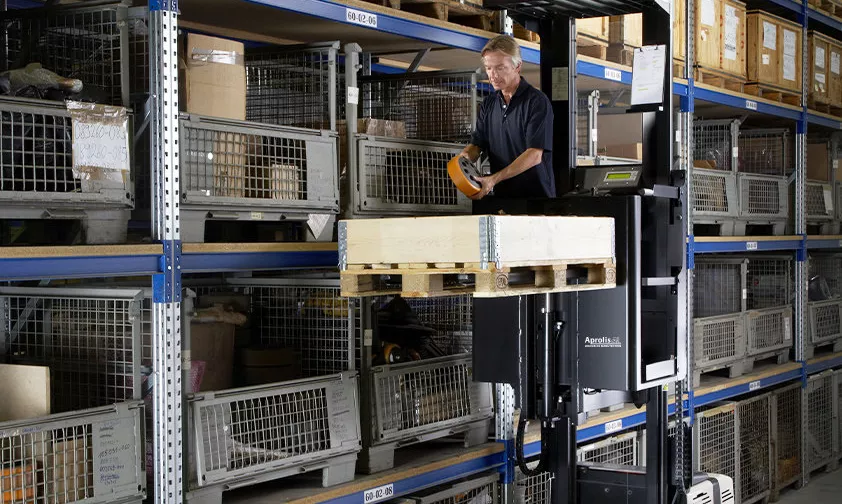 SP3500 high reach order picker
| | | | |
| --- | --- | --- | --- |
| | : 1.000 to 1.250 kg | | : 9.600 mm |
Driving cab on mast side with proportional controls

Driver protection roof and mast with large visibility window

Synchronous motor with linear reduction speed depending on lifting height and turn angle

Version with fixed forks or ergonomic fork elevation

The Access 123 system constantly monitors speed, height and direction of travel and automatically adjusts acceleration and braking force

Spacious platform with anti-fatigue mat, and ergonomic controls for operator stability
Options: Wire guidance - Guide rollers - Controls on fork side - Platform extension - Accessory holders
WAVE multi-purpose order picker
| | | | |
| --- | --- | --- | --- |
| | : 205 kg | | : 4.070 mm |
Adapted to order picking, mixing or maintenance operations at a height

Safety in use thanks to steel handrail and gates with presence sensor on the floor

Dashboard with coded starting system

Steel loading tray with manual or electric height adjustment (option)

Built in safety system with detection of presence under the platform in the raised position

Maintenance free battery with built-in charger
Options: Various storage places - Guide rollers for rails - Working lights - Bumper - Document wallet