It's easy to plan a preventive maintenance check or a troubleshooting request using the Aprolis Service Application.

Wherever you want! When you want! Our sales support service at your fingertips!

Your truck is an essential part of your production and logistics system. This means speed and traceability are essential when preventive or curative maintenance is necessary.

The Aprolis service application offers an efficient way of minimising the downtime of your equipment. Save time - contact your after-sales service 24/7 from your phone or tablet.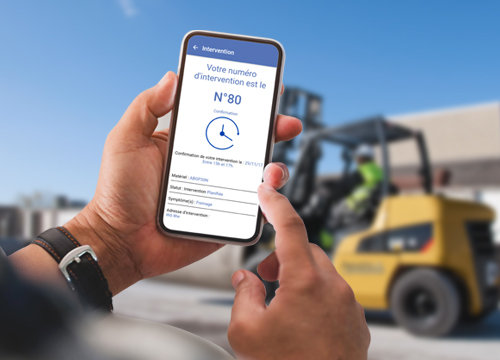 The advantages of the Service Application
Easy to use
Saves time
Manage multiple brands
Manage multiple products
Real-time operation monitoring
Plan your operations when and where you want!
Discover the Aprolis Service Application
Easily identify the equipment requiring repair or maintenance action.
Using a pulldown menu, describe the observed symptoms. You can also add information and choose the desired operation urgency level.
Once your request has been sent, you will receive notifications informing you of every step of the job.