Combilift, a range for efficient handling of non-standard loads
The innovative range of Combilift equipment includes multidirectional forklift trucks, pallet trucks, stackers, off-road trucks, articulating trucks and straddle carriers for handling long loads and containers.
Customers in the industrial and distribution sectors use our Combilift material handling solutions combined with Aprolis' know-how for long-term rental or after-sales support to optimise their efficiency, safety and profitability.
Combi CB multidirectional forklift trucks

Combilift's range of multidirectional forklift trucks offers a complete handling solution, with trucks that combine the advantages of multidirectional counterbalanced trucks with those of narrow-aisle trucks.

Thanks to the side facing mode, the forklift trucks in the Combi CB range are capable of handling both palletised loads and long loads, allowing operators to keep aisle widths as narrow as possible.
Combilift warehouse equipment

The warehouse equipment range is composed of pallet trucks, stackers and order pickers. The products in this range offer ideal solutions for handling long loads in narrow aisle widths.

The pallet trucks and stackers in the range are equipped with a multidirectional tiller handle that allows operators to handle palletised goods as well as longer and larger loads with optimum visibility. There are five models in the range.
Combi PPT powered pallet trucks
Combi WR pantograph stacker
Combi CS counterbalanced stacker
Combi CS2000 counterbalanced stacker
Combi RT off-road forklift trucks

The Combi RT off-road forklift truck range is designed to operate in rough terrain. It offers very good handling because of its 3 wheel design. The equipment in the Combi RT range is tough and capable of working in the wood, mining or building industries.
Aisle Master articulating forklifts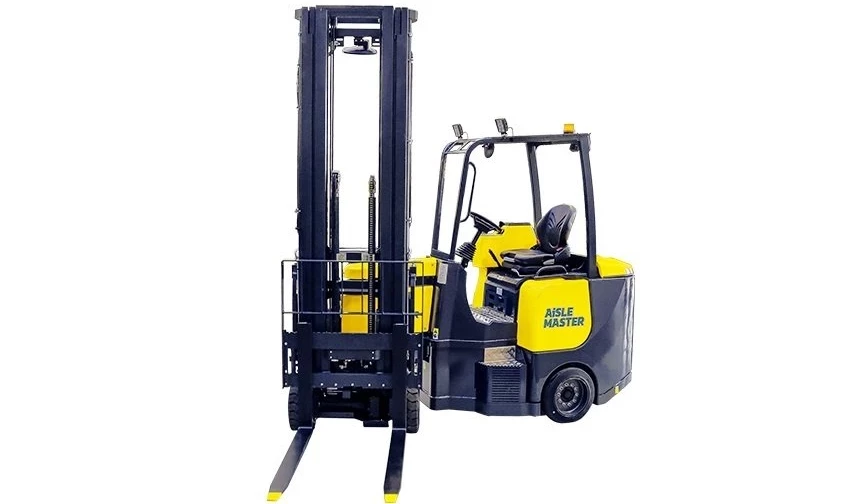 The Combilift Aisle Master is the ideal equipment to reduce your need for space and to increase your storage density. The Combilift Aisle Master packs a wealth of innovation and can carry out handling operations both indoors and outdoors.

This truck, designed for very narrow aisles (VNA), is able to operate in working aisle widths (AST) of just 1.60 metres. With a very high lifting reach of up to 15 metres, it considerably optimises storage capacity, ensuring a performance unmatched by other trucks.

The Combilift Aisle Master range of articulating forklift trucks is available in 3 versions: electric, electric for cold storage and LPG.
Increase your storage capacity by up to 50%
Narrow aisles as little as 1.60 m wide