At the cutting-edge of mobile robotics, transforming the future together
With more than 35 years' experience, Asti Mobile Robotics designs and builds technological tractor solutions for the transportation of loads on tow trailers and load carriers, generally referred to as AMRs (Autonomous Mobile Robots) or creep speed devices.
Closely associated with Asti Mobile Robotics, our goal is to enable our clients to increase productivity and optimise competitiveness, flexibility and marketing times.
For sale and long-term rental, Aprolis technological solutions offer a broad range of solutions for intra-logistic requirements.
A wide-range of solutions
Aprolis and Asti Mobile Robotics offer the widest range of solutions available to address your intra-logistic needs perfectly.
Reception - Warehousing - Shipment
Intralogistics
External applications
Order make-up/picking
Full kitting procurement method
Assembly-line - line end supplies
Automatic robotic cells
Production line supplies
Bespoke solutions
Long term relations with our customers
We have set ourselves the goal of establishing long-term partnerships with our customers to have them benefit from our expert capabilities. Our financing and long term rental solutions and our range of service contracts meet every requirement, whether our customers buy or rent their equipment.
Asti Mobile Robotics AGV tow tractors
AGV tow tractors, the ideal solution for transporting loads on trailers, are used for towing trailers one by one, or as logistics trains. Our range comprises tow tractor models having several different capacities and functionalities to supply flexible solutions, both for logistic flows and for production circuits.
Standard Easybot
Do it with ease!
The Standard Easybot tow tractor it is the cutting-edge automation solution which is easy to install, manage and maintain!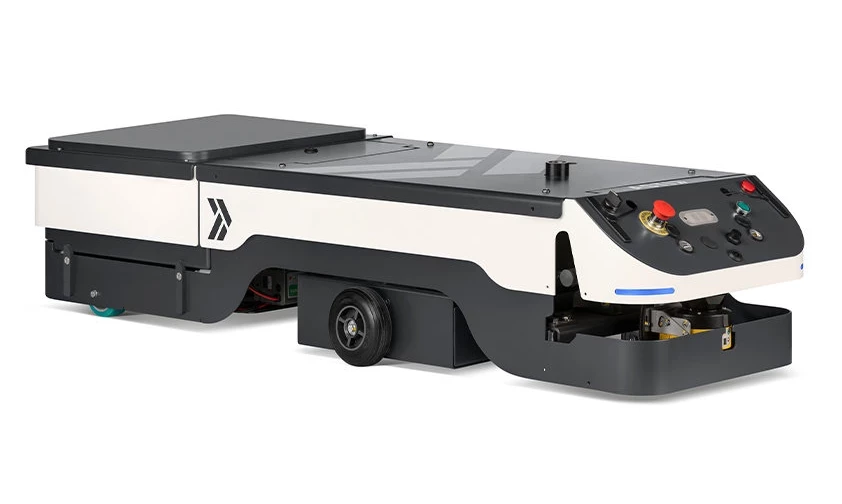 With a towing capacity of 410, 450 or 480 kg, the "Standard Easybot" range of tow tractors are essentially designed for load transportation by pulling trailers.

They are used for logistic transport tasks in industrial environments in a fully automatic and safe way, working on countless projects and automated logistic processes in intensive use 24/7 applications.
Easybot 2.0
State-of-the-art new generation AGV, compact, agile and connected. This system can be used in flexible configurations, allowing complex movements to optimise your operations in a way that was never previously possible.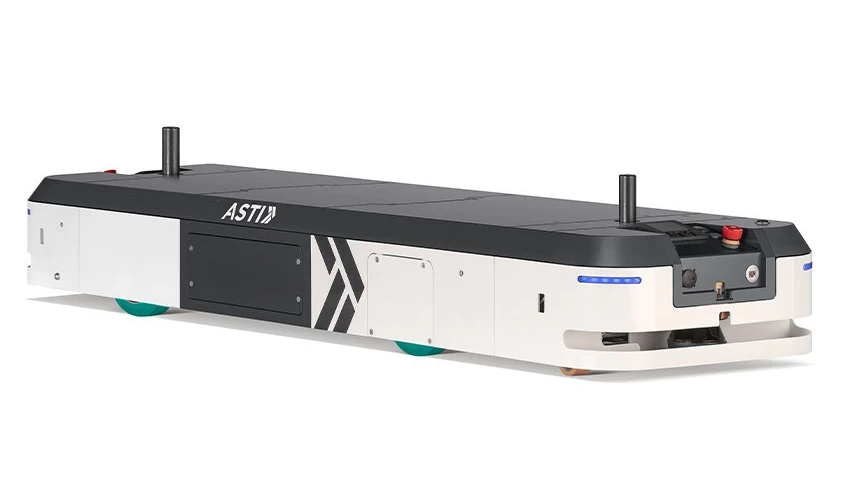 Having a tow capacity of 800 or 1600 kg, the "Easybot 2.0" range of tow tractors feature new functionalities while preserving the key points of the "Standard Easybot" range.

With a large towing capacity and compact dimensions, these innovative tractors can be tailored for a wide variety of trailers used for the automation of logistic flows and offering an ergonomic solution on the assembly line.
Tribot
Simultaneously automate shipping and management of different sizes of trailers and the supply to assembly lines using AGVs.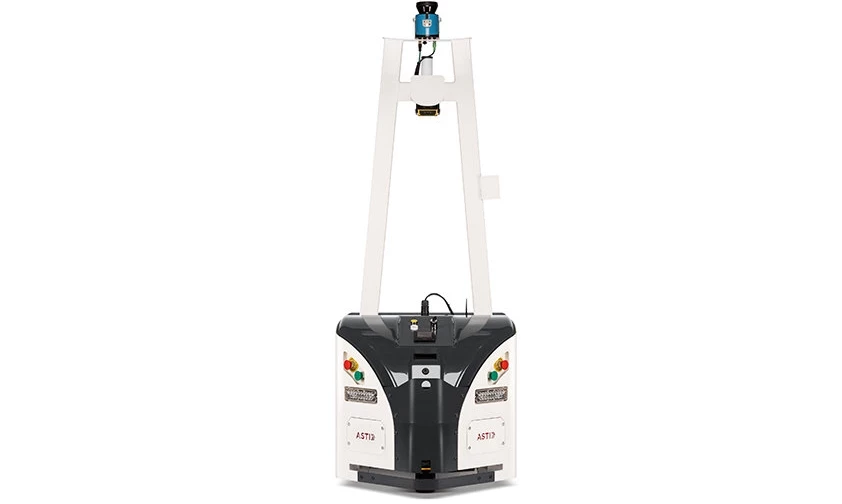 Towing capacity of 3000 or 10,000 kg, allowing you to increase your productivity by automating your goods transport, indoors and outdoors, thanks to the "Tribot" range of tow tractors.
Asti Mobile Robotics AGV carriers
Being so low to the ground, omnidirectional AGV carriers (also referred to as AMR or "tortues") can drive under most load carriers and transport them to the destination. They can also be fitted with a system of rollers to pick up or deliver goods on traditional conveyor belts.
Ebot
Have your efficiency grow through agility, flexibility and maximum safety, offered by Ebot load carriers.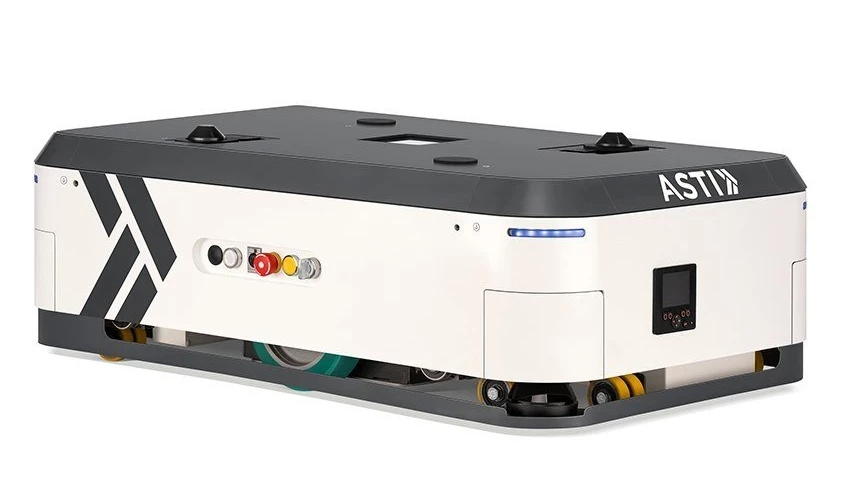 With a lifting table capacity of 350 kg, this AGV load carrier handles fast and efficient delivery of roller carriers, racks, supports, boxes or hanging garments in confined areas.

Combining excellent handling capability and omnidirectional technology, Ebot is capable of making longitudinal and sideways movements. It has high performance allowing a reduction of the number of machines to be used in a given installation and saving space too.
Quadbot 2000
Optimise your logistic flows and production circuits with the smart omnidirectional AGV carrier and its 2000 kg capacity.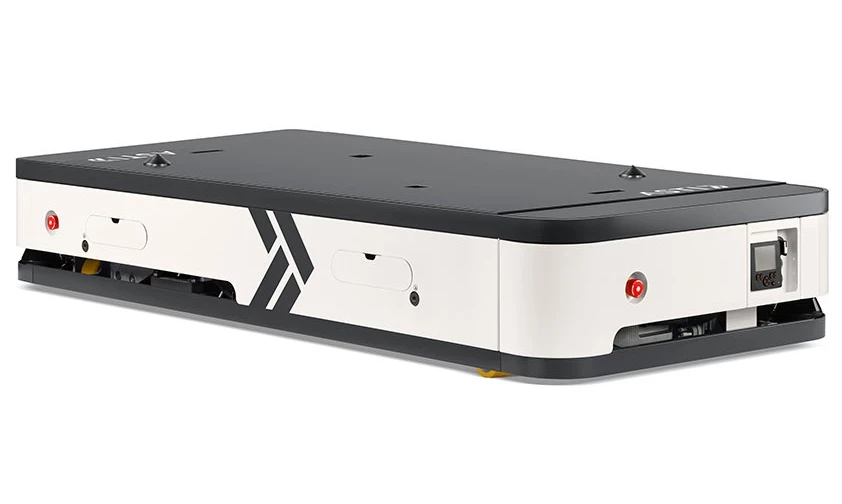 Quadbot 2000 is the right solution in every industrial sector, combining omnidirectional movement capabilities with a very low structure, allowing multipurpose application possibilities in every indoor environment.

Using the latest ASTI technologies, this model is easy to configure to suit customer needs. It can be incorporated into many handling systems, such as conveyors or lifting tables.